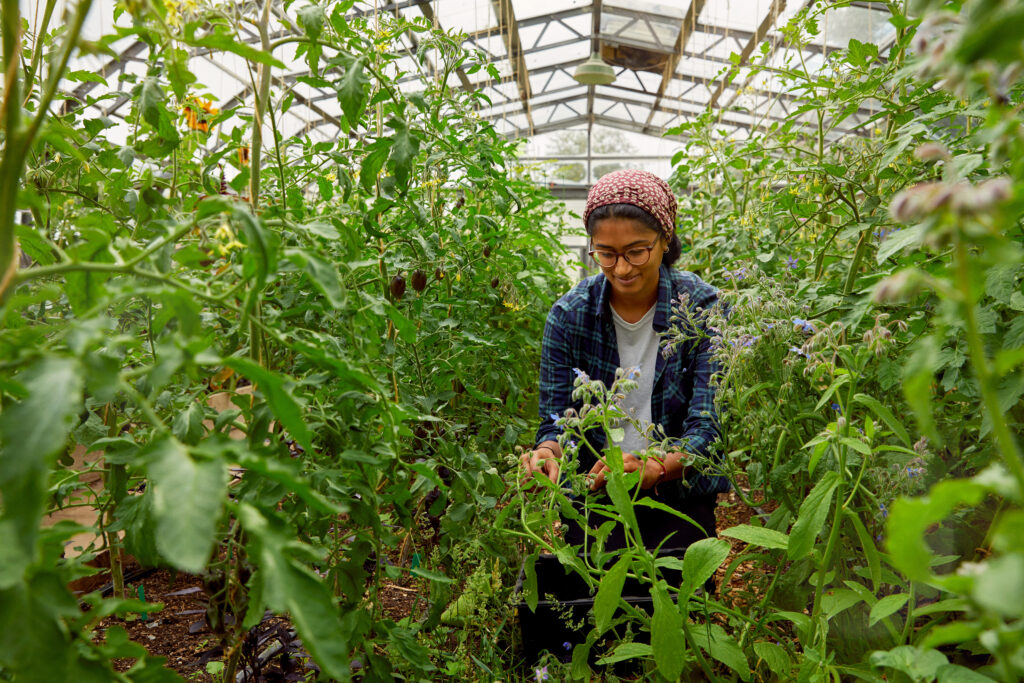 Are you part of the next generation of food growers? Looking to develop your skills and hands on experience in a sustainable and diverse environment? Be part of an operational food growing and horticultural centre in the heart of North London?
We are delighted to be able to recruit three trainee growers 18-25y/o at the Wolves Lane Centre to begin working end of February 2024, to work with the various growers and groups on site to get work-based training in small-scale commercial growing, as a first step in their career in food growing.
We particularly welcome applications from people with disabilities, neurodivergent, people from POC and LGBTQIA+ communities, and intersections therein, as they are under-represented in the horticulture/farming sector.
ABOUT WOLVES LANE
Wolves Lane Centre in Haringey is a former council-run plant nursery and garden centre run by a consortium of community organisations and volunteers since 2017. We grow and distribute sustainably produced food and plants, and offer a hub for education, enterprise and events, making good food accessible to all. Thanks to funding from the National Lottery and the Mayor of London's Good Growth Fund, we're redeveloping the site to establish Wolves Lane as a thriving and sustainable community green space in the coming years.
ABOUT THE ROLE
Organic produce is grown at Wolves Lane and our satellite site Pasteur Gardens, both outside and under glass. The site is operated by a mix of groups, with produce distributed to Wolves Lane cooking project, markets, restaurants, and local sale.
For this Trainee post, we are looking for people interested in pursuing a livelihood as a food grower or landworker, and seeking to gain the skills and experience to further this aim. You will be supported by our on-site Community Educator, and will have the opportunity to work as a team with the Wolves Lane Lead Growers, and Growers from Black Rootz, a black-led antiracist enterprise, specialising in growing diaspora crops.
Salary: London Living Wage £13.15 per hour
Hours: 3 days per week, 7 hour days, usually Tuesdays, Wednesdays and Thursdays.
Employment period: 15 weeks with scope to extend (late February 2024 – July 2024)
Responsible to: Wolves Lane Consortium board.
Application deadline: Midnight Monday 27th November 2023
Interviews: W/C 4th December 2023
HOW TO APPLY
Please read the role description and person specification below and let us know how you think your skills and experience makes this traineeship right for you. Attach a CV or statement of your work/volunteer history, as well as either a cover letter or a video. We welcome applications even if you feel you don't fulfil every element of the person specification.
Please send any questions and your application and equalities monitoring form to jobs@wolveslane.org, with 'Trainee Grower and (your name)' in the email title.
MAIN TRAINEESHIP OBJECTIVES
To learn about and assist with all aspects of planting, growing and maintaining produce sustainably in an urban setting
To learn about and assist with all aspects of harvesting, preparing, and selling produce
To learn how to provide support for volunteers
To participate fully in the Traineeship Programme and commit to share learnings with the next round of Trainees.
MAIN RESPONSIBILITIES
Trainees will learn all aspects of running our urban growing project and horticulture centre by:
Assisting the growers on site 3 days a week practising agroecological methods, split between our Wolves Lane Growers and the Growers at Black Rootz.
Work closely with the Growers to learn all aspects of running the glasshouses, outdoor beds and composting systems. This might include seed sowing, potting on, planting out, weeding, watering, harvesting, pest and disease management, making compost, record keeping, supporting distribution of veg, and any other associated tasks on site.
Harvesting produce to the agreed methods, ensuring quality control and preparing and packing produce according.
Supporting and supervising volunteers.
PERSON SPECIFICATION
Skills, Knowledge, Ability, Commitments
Desirable
A demonstrable interest and passion for sustainable and socially diverse food growing and production, horticulture and landwork.
One season's experience volunteering/working on a food growing site/ garden
Happy and able to work mainly outdoors throughout the year
Demonstrable experience of performing physical work with pressure to deliver
Experience of volunteering or working in a diverse community setting
Knowledge or direct experience of the local Wolves Lane community
Ability to carry out shared tasks and work effectively within a team
Ability to supervise and explain tasks to volunteers clearly and with compassion
Experience of paid employment in horticulture or a horticulture placement
Level 1 or 2 horticultural qualification or equivalent
Can demonstrate clearly why this traineeship is right for you
________________________________________________________________
DIVERSITY MONITORING AND DATA PROTECTION
Wolves Lane Consortium is committed to eliminating discrimination encouraging diversity amongst our workforce. We will not discriminate with reference to age, gender, sexual orientation, race, colour, religion, marital status, and disability. To help ensure our recruitment process is fair and equitable, we collect diversity data from applicants to our roles, using the separate equalities monitoring form.
Any personal data you provide (e.g., address, telephone number, employment history) will be used for recruitment purposes only, and only shared with individuals involved in the recruitment process.