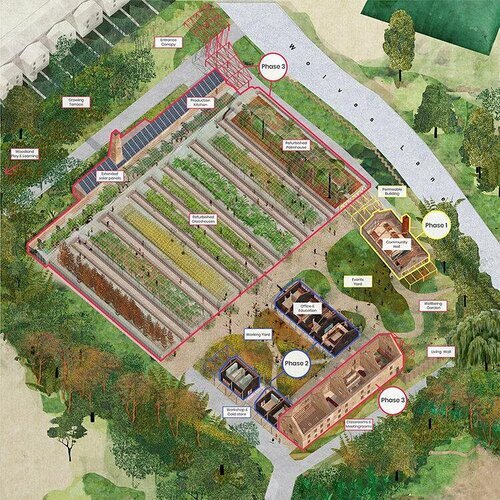 Wolves Lane Centre Development
Our plan for building works is gathering pace! We are going to be redeveloping the whole back of the site – see this post for more details here
Plant Sale
Saturdays 11am – 1.30pm
Our organic growers are selling plants each Saturday outside the main gates – we have a variety of ornamentals and edibles for sale.  Our volunteers have been making cuttings from plants around the site and the palm house so you can grow them at home. There are also herbs and seasonal fruits and vegetables. Please bring cash!
Got plastic plant pots you don't need anymore? We'll happily accept any of your unwanted plant pots which we can reuse for propagating more plants. Just bring them along to the gate during plant sale times.
Emergency COVID response at Wolves Lane
We're responding the increased food insecurity brought on by the pandemic in two ways:
COVID-19 Meal project
We've adapted our community kitchen project to produce free meals for those hardest hit by the pandemic. Every week our volunteer chefs and food preppers are producing nutritious meals from surplus food, which are currently being distributed to the Haringey food hubs and Homes For Haringey.
Food production
We have increased our food production at Wolves Lane to assist with the emergency food effort in Haringey. The additional produce will be donated, used for the COVID-19 Meal project and sold at a considerable discount to the community to support some of the most vulnerable residents in Haringey.   
As part of our Food for All project, we have been growing produce to support the community during the pandemic. We've been delivering to local schools, senior homes, local elderly and vulnerable residents in Haringey, Lordship Hub and many more.
Open Sundays at Wolves Lane – currently suspended due to COVID-19
We are open to the public every Sunday between 12 – 4pm for your chance to meet the site users and see the latest developments by visiting our Palm House and Gardens. Our volunteers open the site to the community, give you the opportunity to purchase organic food, plants grown on site and enjoy homemade refreshments in exchange for a donation to support this community site. 
SHARE & DONATE – If you have any donations of seeds, flowering bulbs, cuttings and any gardening or DIY tools to contribute, please put them in our donations bucket on the Open Days. It will be a great help to the community site!
Regular Volunteering Opportunities – currently suspended due to COVID-19
On a weekly basis the centre is generally closed to the public Monday to Saturday until we secure funds to staff the site. In the mean time, we have a team of volunteers helping to grow, fix, develop and run the site.
Food and horticulture volunteering opportunities at Wolves Lane provide you with the chance to spend time with nature, have fun, get active, share your knowledge and meet new people.
Lunch is provided by CropDrop for all volunteers on Tuesday & Wednesday. We kindly ask that you bring metal or glass food containers for any surplus food that's not gobbled up on the day!
TUESDAYS /  11am – 4pm
Palmhouse maintenance group
Are you green fingered and want to get more involved in horticulture? Join our Palmhouse restoration team every Tuesday to help care for the tropical plants.
DIY Workshop 
Are you great at fixing things? Help improve, repair and work on structural projects on the large 3 acre glasshouse site. We welcome all skill levels and value any expertise you can offer.
Please contact Roger on wolveslaneworkshop@gmail.com for more information.
WEDNESDAYS / 11am – 3pm
Veg packing with Crop Drop
Help sort the deliveries of fresh produce from the farmers and pack the veg bags. No previous experience is necessary. It helps if you like vegetables, music from the 80s/90s and can lift 10kg bags of carrots.  Take home some lovely organic fruit & veg at the end of the shift!
Contact veg@cropdrop.co.uk, if interested.
TIME CREDIT SCHEME
Haringey Time Credits is a Time Based Currency designed to value the time of people supporting their local community.
Sign yourself up to the time credit reward scheme at Wolves Lane! Simply fill in the form online here (not all information is needed) and notify the volunteer supervisor in charge of your group, when you arrive and leave the site on the volunteering days.
Watch this video to find out more.