As the lockdown continues Wolves Lane Centre will only remain open for:
1) production and distribution of food
2) essential plant maintenance and animal care
3) essential site maintenance.
---
FREE Food Growing Course: Level 1 Award (City and Guilds)
Dates: 15 March – 3 May 2021
Times: Mondays 10.30am – 4.30pm
This 7 session course provides an opportunity to achieve an accredited gardening qualification through practical learning. It is designed to build basic and technical skills in the classroom then support this with demonstration practical tasks at Wolves Lane.
Who is it for? Anyone who is experiencing or at risk of experiencing mental health problems. This course gives an opportunity to learn and do something practical. It can also support those who are thinking about working as a gardener or who want to enhance their food growing knowledge for the home environment.
Download the Course Information
If you would like to register your interest please email bunmi@wolveslane.org by 8 March 12pm.
Wolves Lane Seed Bank
We are embarking on starting our own seed bank and seed distribution to support new food growers & equip people with seed starter kits to grow from home, either on a windowsill, balcony or in their gardens.
How to get involved?
We would love to receive donations of seeds from growers on your allotment. These may be seeds they have harvested from previous crops, or even excess seeds that they no longer want or need.
Step 1. Put the seeds into an envelope. Include the label with the type of seed, the year that the seed was harvested and name of donating allotment.
Step 2. Leave the envelope at the drop box at Wolves Lane Centre (available from 18th Jan)
Or Post: Send the seeds in an envelope addressed to:
Seed Bank, Wolves Lane Centre, Wolves Lane, Wood Green N22 5JD
New Project – Rootz into Food Growing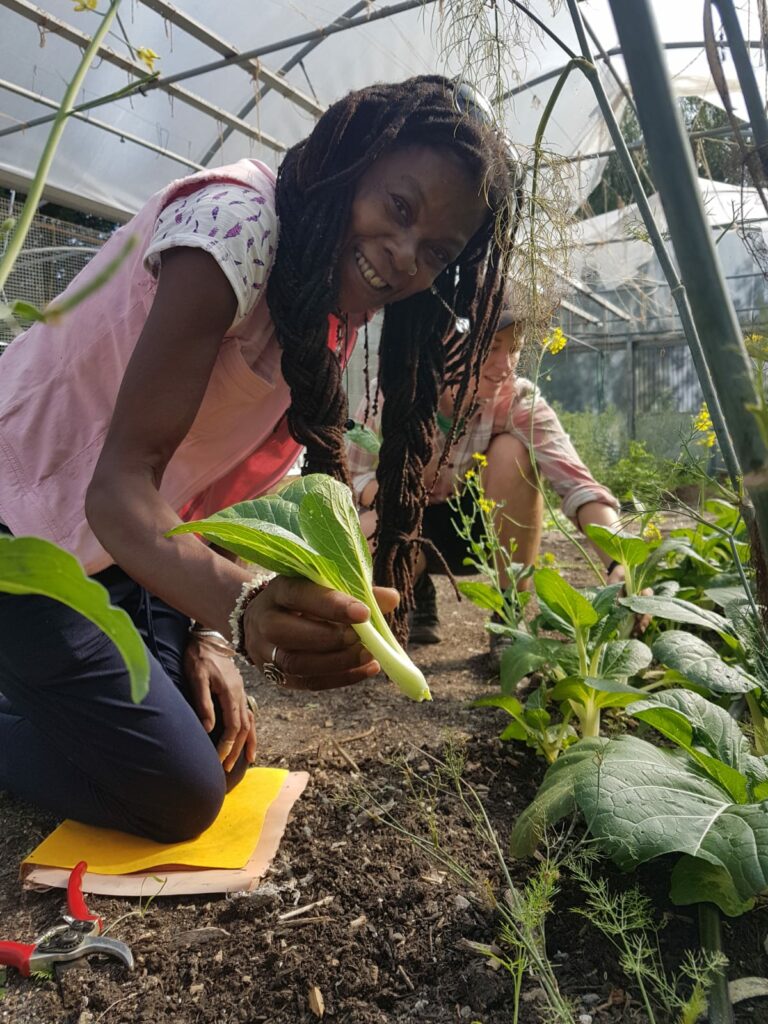 Rootz into Food Growing (RiFG) aims to challenge and disrupt some of the structural inequalities that exist within the current UK food growing sector through the creation of a network of Black, Asian and Minority Ethnic led growers pan-London who will receive relevant skills development and training opportunities enabling them to grow commercially.
RiFG is a collaboration project between The Ubele Initiative, OrganicLea, Black Rootz and Land In Our Names (LION) funded by Farming the Future.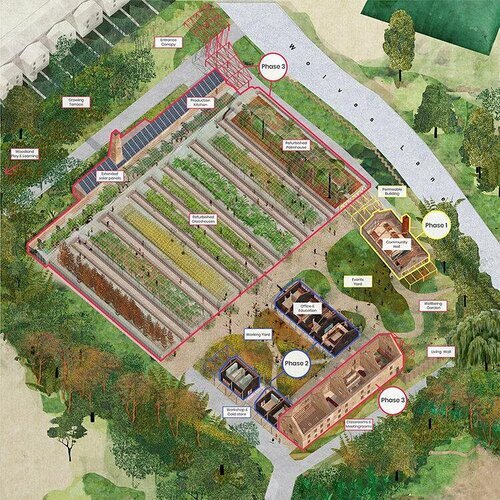 Wolves Lane Centre Development
Our plan for building works is gathering pace! We are going to be redeveloping the whole back of the site – see this post for more details here
Tree work
To make way for the new buildings on site, we have to remove some trees that will compromise the foundations of the new buildings. The majority of the trees we'll be felling are leylandii around the border of the site. These are not considered high quality trees, and have been planted very close to each other, so they need thinning out. We will remove one-third of these leylandii, which will aid more light penetration and visibility into the site and growing areas, as well as making space for the new buildings. Rest assured we will do this work before nesting season so breeding is not disrupted. All the timber we fell will be reused in the build or on site, including structural posts for the building and garden furniture, as well as mulching with woodchip.
See the chart elbow for details of the trees that will be going, marked in red.
Plant Sale – currently suspended due to COVID-19
Saturdays 11am – 1.30pm
Our organic growers are selling plants each Saturday outside the main gates – we have a variety of ornamentals and edibles for sale.  Our volunteers have been making cuttings from plants around the site and the palm house so you can grow them at home. There are also herbs and seasonal fruits and vegetables. Please bring cash!
Got plastic plant pots you don't need anymore? We'll happily accept any of your unwanted plant pots which we can reuse for propagating more plants. Just bring them along to the gate during plant sale times.
Emergency COVID response at Wolves Lane
We're responding the increased food insecurity brought on by the pandemic in two ways:
COVID-19 Meal project
We've adapted our community kitchen project to produce free meals for those hardest hit by the pandemic. Every week our volunteer chefs and food preppers are producing nutritious meals from surplus food, which are currently being distributed to the Haringey food hubs and Homes For Haringey.
Food production
We have increased our food production at Wolves Lane to assist with the emergency food effort in Haringey. The additional produce will be donated, used for the COVID-19 Meal project and sold at a considerable discount to the community to support some of the most vulnerable residents in Haringey.   
As part of our Food for All project, we have been growing produce to support the community during the pandemic. We've been delivering to local schools, senior homes, local elderly and vulnerable residents in Haringey, Lordship Hub and many more.
Whilst we have our own emergency food distribution at Wolves Lane, there are neighbouring boroughs who are also contributing to this essential work.
Open Sundays at Wolves Lane – currently suspended due to COVID-19
We are open to the public every Sunday between 12 – 4pm for your chance to meet the site users and see the latest developments by visiting our Palm House and Gardens. Our volunteers open the site to the community, give you the opportunity to purchase organic food, plants grown on site and enjoy homemade refreshments in exchange for a donation to support this community site. 
SHARE & DONATE – If you have any donations of seeds, flowering bulbs, cuttings and any gardening or DIY tools to contribute, please put them in our donations bucket on the Open Days. It will be a great help to the community site!
Regular Volunteering Opportunities 
On a weekly basis the centre is generally closed to the public until we secure funds to staff the site. In the mean time, we have a team of volunteers helping to grow, fix, develop and run the site.
Food and horticulture volunteering opportunities at Wolves Lane provide you with the chance to spend time with nature, have fun, get active, share your knowledge and meet new people.
Lunch is provided by CropDrop for all volunteers on Tuesday & Wednesday. We kindly ask that you bring metal or glass food containers for any surplus food that's not gobbled up on the day!
COOKING ASSISTANT (TUESDAYS / WEDNESDAYS / 9am – 1.30pm)
Assist our chef, Sharon in the preparation of simple and nutritious plant based meals, from fresh produce grown on site or donated food waste, for daily distribution to vulnerable and isolated residents. The role includes: preparation and cooking of ingredients, overseeing packing as well as clearing and washing up.
We are looking for someone with cooking experience ideally with a level 2 food hygiene qualification or with cooking experience and willing to undertake level 2 food hygiene on line training. A love of food and cooking and enthusiasm to be creative with seasonal ingredients and the ability to work with others as part of a small team.
It's a great way to get a feeling for what's in season and liaise with the growers on site. It will support moves you might want to make into employment in the catering industry. A nutritious take away lunch freshly prepped and cooked
Contact volunteer@wolveslane.org, if interested.
FOOD PREP AND PACKING (TUESDAYS / WEDNESDAYS / 9am-1pm or 10am-2pm)
Work within a small team to portion, package and label cooked meals ready for collection. You will also help with additional food prep guided by the chef and assistant cook, but not in the kitchen. Clearing, cleaning and washing up too.
You will need to be good at working with others, a clear communicator and happy to follow instructions and guidance working carefully and with attention to detail.
You can improve your knife and prep skills and ideas on how to cook healthy meals from scratch. 
A nutritious take away lunch freshly prepped and cooked.
Contact volunteer@wolveslane.org, if interested.
PALMHOUSE MAINTENANCE GROUP (TUESDAYS /  11am – 4pm)
Are you green fingered and want to get more involved in horticulture? Join our Palmhouse restoration team every Tuesday to help care for the tropical plants.
Contact volunteer@wolveslane.org, if interested.
VEG PACKING WITH CROP DROP (WEDNESDAYS / 11am – 3pm) 
Help sort the deliveries of fresh produce from the farmers and pack the veg bags. No previous experience is necessary. It helps if you like vegetables, music from the 80s/90s and can lift 10kg bags of carrots.  Take home some lovely organic fruit & veg at the end of the shift!
Contact veg@cropdrop.co.uk, if interested.
TIME CREDIT SCHEME
Haringey Time Credits is a Time Based Currency designed to value the time of people supporting their local community.
Sign yourself up to the time credit reward scheme at Wolves Lane! Simply fill in the form online here (not all information is needed) and notify the volunteer supervisor in charge of your group, when you arrive and leave the site on the volunteering days.
Watch this video to find out more.